Feasibility of heat recovery from waste water, PVT and heat storage in multi-family buildings
The project objective is to develop a technology for heat recovery from wastewater with use of separation system aimed at existing multi apartment buildings. Recovery of heat loss from wastewater has not been considered much earlier, but energy for production of domestic hot water is often about 25% of the total heating demand for existing buildings in Denmark and Sweden, and about 50% for new build low energy houses (building class 2015) i.e. a significant amount of the added heating energy will leave the building through the wastewater system.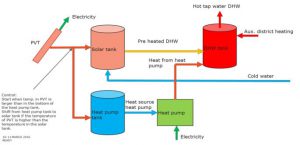 The project is based on a system with a wastewater storage e.g. as a prefabricated wastewater manhole with macerator pump – or the storage is a modification of an existing manhole. In the manhole, a special heat exchanger will be installed and coupled to a heat pump that can pre-heat domestic hot water for a domestic hot water tank. The heat pump can also use the PVT system as heat absorbers to extract heat from the sun and the surroundings. The buffers in the waste water tank and the domestic hot water tank enables the heat pump to be operated independent of the demand and domestic hot water, which introduces flexibility and use of a smart grid ready control strategy.
Read the entire report
Want to know more?
Deliverable no. D.3.1.1 Report describing the feasibility of heat recovery from waste water, PVT and heat storage in multi-family buildings and recommendations for demonstration including final design notes
Please contact: Reto M. Hummelshøj, COWI, rmh@cowi.com