Växjö – Retrofit of buildings
The proposed action in Växjö includes refurbishments of 376 apartments in the Araby housing district (sub-areas Alabastern and Bärnstenen) as well as the City Hall building located in central Växjö. All these buildings will be thoroughly refurbished to comply with the local, national and EU energy efficiency targets. The below matrix describes the actions to be undertaken. The attached Best-tables gives more detailed information on the actions to be taken in the three areas which has been labelled as follows:
BEST-SE1:   17,494 m2,multi-family houses, 160 apartments in Alabastern area
BEST-SE1.1:  4,133 m2, multi-family house, 36 apartments in Alabastern area
BEST-SE2: 13,567 m2,multi-family hoses, 156 apartments in Bärnstenen area
BEST-SE2.1:  2,045 m2 multi-family house, 24 apartments in Bärnstenen area
BEST-SE3: 11,162 m2 office building, Växjö City Hall.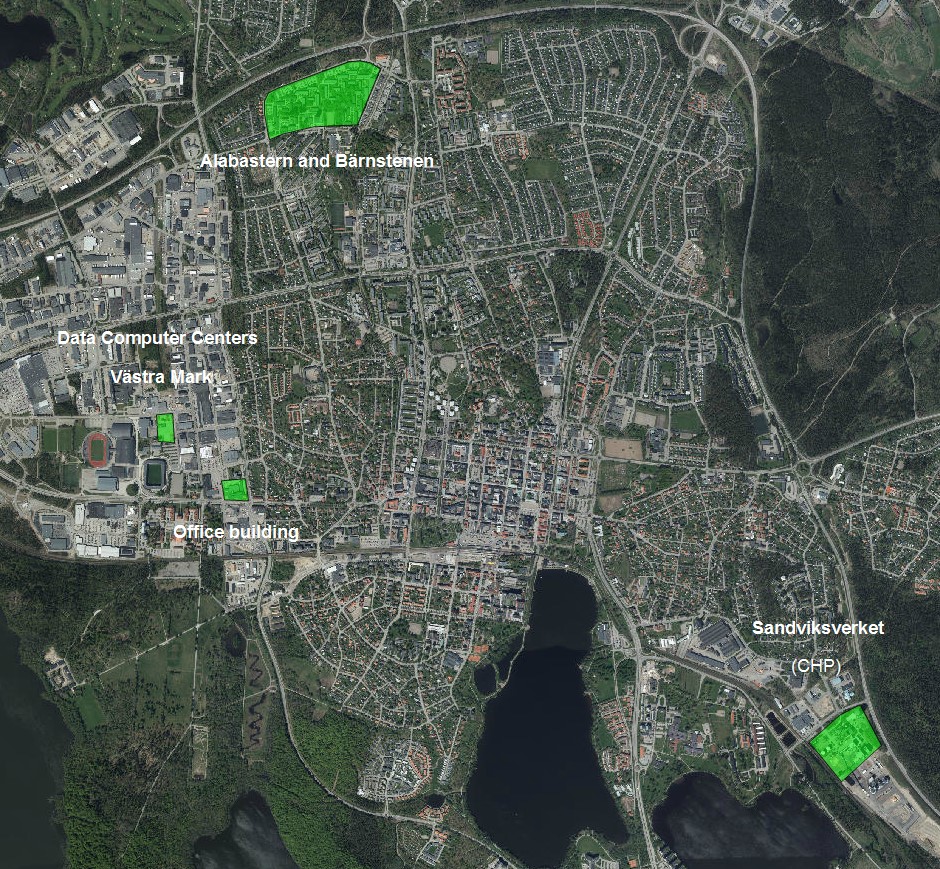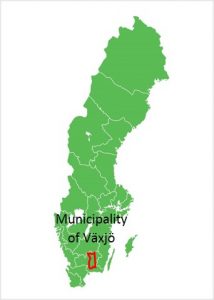 Växjö – Electricity distribution grid
In addition the project will demonstrate and evaluate the use of a PowerHub to control supply and demand and optimize the use/re-use of energy across the integrated energy systems (electricity and electric vehicles, as well as district heating) – all within the comfort / safety / quality of service requirements of each resource. Energy supply system and integration of industrial driven demonstration projects in Ready is illustrated below:
Växjö – Smart ICT Infrastructure
The retrofit of the sub-areas Alabastern and Bärnstenen will include a number of innovative utility services – all of them connected with advanced ICT management system, with the purpose to optimize overall performance and reduce energy consumption. In order to manage the retrofit future proof and with sustainable economy, a holistic perspective of the total smart ICT infrastructure needs to be taken in consideration. The smart technology shall both manage the utility systems efficient and also create people empowerment and motivate change in personal behaviour. Consumption of utilities can be substantially reduced if the tenants are provided with accurate and real-time information in an easy accessible way. Services such as electricity and hot domestic water will also be enhanced with individual and dynamic pricing models giving tenant economic incentives to contribute even further.
Växjö will use a common and open ICT platform enabling all types of services and all types of communication needed. The communication platform will benefit from existing open broadband network (provided by Wexnet) inside each building supplemented with support for digital low power sensor network provided via a smart communication node installed in each apartment. The smart node will communicate with measuring devices, individual appliances and other sources of information. The software platform will integrate the utility services and enable real-time visualisation of services on various platforms such as web, tablets, smart phones and TV.
The smart ICT platform can also be used for other information and services concerning laundry room booking, elderly care security and monitoring, health care and other public utilities. The concept of the smart platform will be developed and installed in 80 apartments and houses in the project.
Energy supply system and integration of industrial driven demonstration projects in Ready is illustrated below: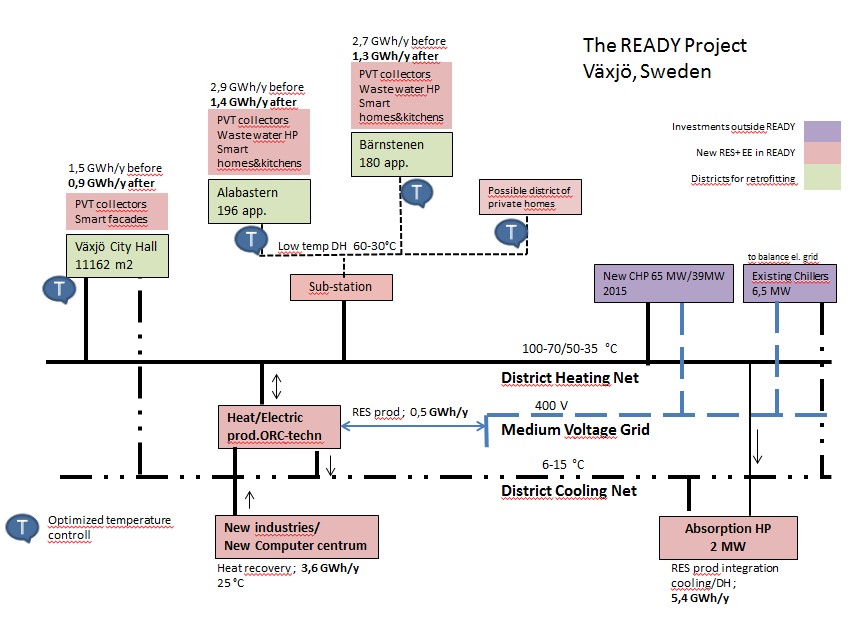 Växjö – District heating and cooling energy supply
The City of Växjö has used district heating since the 1970´s. Since then, the network has expanded and at the moment more than 90% of all buildings in the city are connected to this network. Since 5 years the city also has started to implement a district cooling system. In 2014 a new CHP-plant will be in operation and thereafter all the district heating & cooling provided in Växjö will be based on biomass. This project will further develop and enhance the district heating and cooling systems to increase overall energy efficiency in the city.
Two existing district cooling networks will be connected in order to increase the RES production and increase the amount of waste heat used in the system. The integration of the DH network and the DC network will be performed with absorption cooling machines. Making it possible to produce cooling with heat when the electricity price is high and produce cooling with electricity when the prices are low. This will also affect the electricity grid, since it will be possible to change the amount of electricity being produced or consumed.

The waste heat recovery will increase by connecting more local industries/ s/waste heat sources about 3.6 GWh. In Växjö, there are plastic industries as well as metallic industries that currently using cooling for their processes, a total of about 7.2 GWh. It is expected that at least 3.6 GWh of that is feasible for increased electricity production with integrated DHC network and some might be useful for heat production as well. Further sources with waste heat are available in the area including 3 ice-rinks, several food stores and some data centres to the district heating/district cooling system. The waste heat will either be recovered in the heating system and used as energy source or cooled down by the district cooling system used to produce electricity. In both cases, the waste will not be cooled by local cooling machines and therefor the electricity consumption at the local industries will decrease as well.
A method will be developed to utilise existing meters (temperature) to optimise the operation of the district heating/cooling systems.
The local district heating network for Alabastern and Bärnstenen (+some surrounding one-family houses) will be adjusted to bring the temperatures to lowest possible level, (decreasing the normal temperature from 80 to 70-75 °C, the long-term goal is to reach down to 60 °C. The heat losses will decrease, they are currently around 10-12%, amounting to a total of about 100 GWh per year in the total network. Each percent decrease will give significant savings. This will give the prerequisites for production of electricity in central CHP plant and for minimization of heat losses. Some renovated buildings will, as a pilot, be equipped with Smart DH sub-centrals in order to use building as accumulator and use as low temperature as possible. Moreover, heat driven appliances (dishwasher, wash machine) and Smart Meters (to decrease use of electricity, heat will be tested.

Local production of electricity/heating/cooling will be tested as a pilot with a new technology using the different levels of temperatures in the district heating/cooling system. A program will be developed to measure and evaluate this initiative.
Moreover, an old computer centre will be rebuilt to become a new state of the art green data centre using best available infrastructure system technology (heating/cooling/electricity) integrated with city´s district heating/cooling systems and CHP-plant. This will be a pilot demonstrating new sustainable solutions for this growing market.
Moreover in coordination with the retrofit of buildings the following demonstrations will be made in 60 apartments:
New modularised manholes with heat pump for base load heat recovery from waste water and smart grid control.
New large scale combi PVT solar collectors expected 450 m2 from RAC-DK for increased power efficiency and heating of domestic hot water in interaction with the district heating supply.
Heat driven appliances.
Kitchen product for treatment of organic waste.
Climate smart façade (Växjö city hall).
Växjö – Mobility and transportation
Växjö has worked with sustainable transport systems for many years and in both the Sustainable Transport Plan (adopted in 2005, to be revised in 2014) and the Energy plan for Växjö (adopted in 2011), the need of electrical vehicles is stressed. The city is looking into solutions to expand the use of electric vehicles and to encourage carpooling. The infrastructure for electrical vehicles has already started to be implemented in Växjö, as there are six charging poles that can be used for free. However, there is a lack of a strategic plan for the forthcoming charging infrastructure. Another important activity is that the municipality intends to increase the already existing fleet of electric vehicles in the municipality car-pool. In order to build further understanding and develop concepts for carpooling and use of electric vehicles, Växjö will prepare a strategic plan and closely follow the mobility actions undertaken in Aarhus. In addition, a number of pilot charging stations will be realized in cooperation with EON.